Overcome Mobile Device Lab Inefficiencies and Limitations
Device Fragmentation
Ensuring app compatibility across 95% of the market requires testing across hundreds of devices.
DIY Lab Overhead
Operating in-house device labs can strain IT resources and divert attention from strategic initiatives, increasing operational overhead.
Emulator & Simulator Limitations
Emulators and simulators can't replicate real-world conditions, hindering insights into battery, CPU, and more.
Scale with Mobile Device Cloud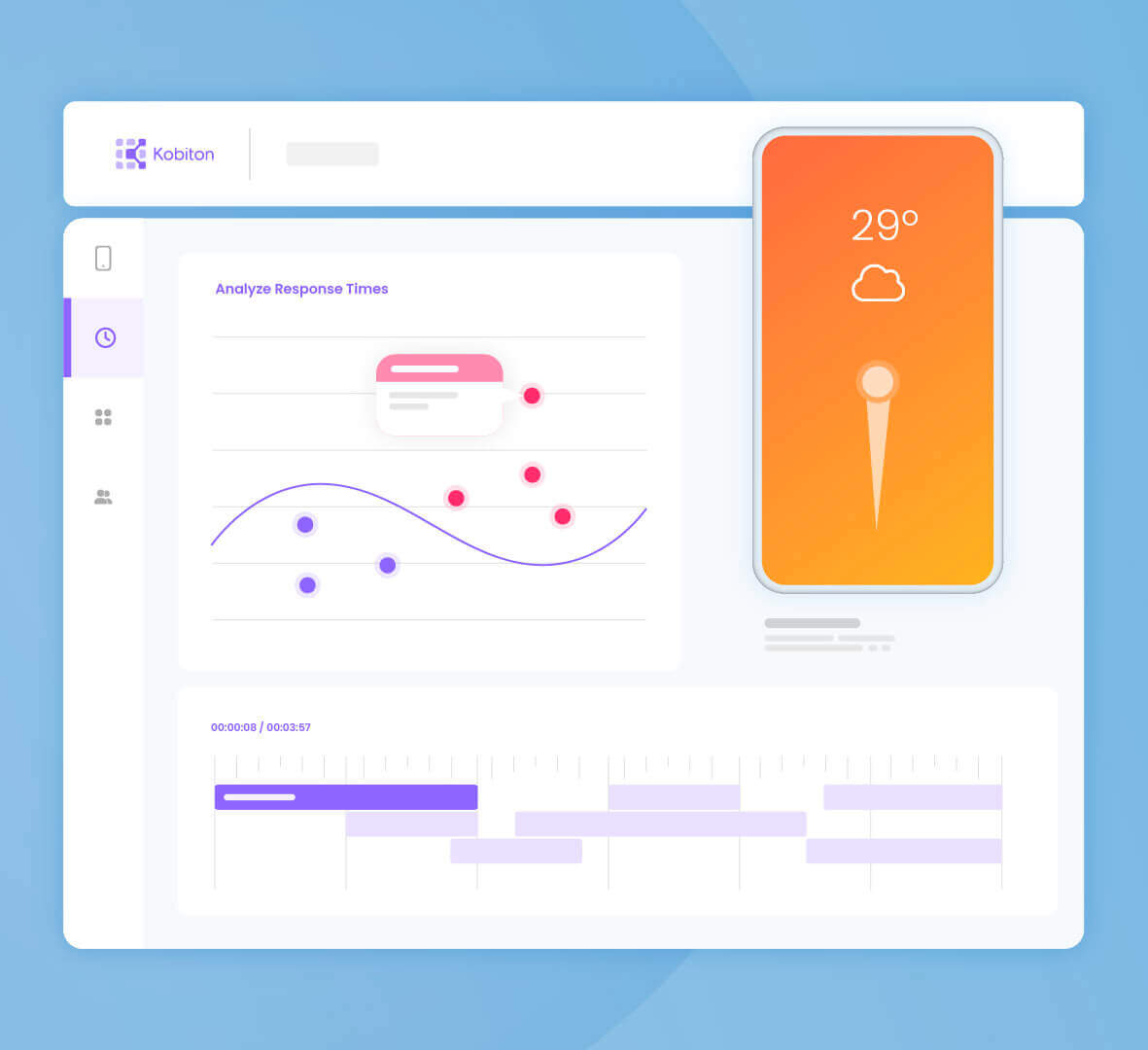 Real-World Market Coverage
Achieve your desired level of market coverage with instant access to a diverse range of real mobile devices ready for parallel test execution
Dynamic Scalability
Effortlessly adapt to changing mobile testing needs. Scale device coverage up or down with flexibility and efficiency to meet project demands.
Precise User Experience Testing
Achieve 100% accurate user experience testing by assessing battery usage, push notifications, and more. Visualize your app's performance across various screen resolutions and brightness levels.
Cost-Efficiency
Reduce expenses by eliminating the need for extensive physical devices. Cost-effective subscription models ensure control over expenses while accessing the latest mobile OS and devices.
Kobiton Mobile Device Cloud Makes Real Device Testing Easy
Achieve precise market representation, seamless collaboration, natural gestures, rapid device launches, easy app uploads, and smooth script migrations with our Mobile Device Cloud.
Conduct comprehensive testing across an extensive variety of smartphone and tablet models, ensuring accurate representation of your priority markets.
Enable effective global collaboration as our platform accommodates unlimited users within a single, unified testing environment.
Experience seamless gesture execution, including tapping, swiping, scrolling, and pinch-to-zoom, all with virtually no latency
Experience rapid device launching on our cloud platform, minimizing wait times and maximizing your testing productivity.
Easily upload your app to our device cloud through our user-friendly API, facilitating dynamic and versatile test scripting.
Count on us to migrate your existing test scripts seamlessly, ensuring a risk-free and disruption-free switch.
Simplify Mobile Testing with Mobile Device Cloud
Efficiently access real devices, scale effortlessly, and elevate your testing coverage.
Scalable Access to Real Devices
It takes only 10 devices to achieve 50% market coverage, but it takes 159 devices for 90% market coverage. Subscription access through the cloud is the most efficient way to access the latest mobile operating systems and devices for your coverage goals.
Parallel Sessions
Enjoy the efficiency of parallel execution of your test scripts. Perfect for quick integration into your CI/CD process and near-instant results. Whether you're doing manual, automated, functional or performance testing, parallel sessions help you accelerate mobile delivery.
Ready to accelerate delivery of
your mobile apps?